I tell you, special moments just pass by before you know it. My birthday done came and went (March 30th) and I didn't even get a chance to share with y'all!
I just got back from my trip to Los Angeles to hang out with family and friends for my birthday. I love that city! This was probably my third time visiting, and each time I go back I learn something new about Cali and explore a little bit of extra newness that the city has to offer.
It was a given that I had to visit the new NastyGal store on Melrose. So me and my girl Maegan hoped in her Range and headed out to shop for the day. It's not a trip without shopping right? The store set up was perfect for any fashionista … clean, organized, and seemingly sectioned off by style.
The dressing rooms were pretty dope. The sales associate writes your name on the outside of the door to keep up with their shoppers, and you can peek out from the outside in and the bystanders on the other side probably have no idea you're looking at them lol. Love it.
Those who know me, know I love a clutch! Spotted these cuties in the store to add a little spice to your fit. Sometimes all you need to compliment a simple outfit, are some statement accessories/conversation starters.
I remember when NastyGal was "affordable" lol. Now the tops are $200, a bag is $150, and pair of earrings will run you $40 and up. Take this super cute, boho-chic number below for example. A summer staple that should be in every girls closet … but that $300 price tag? No ma'am. I'm a spoiled shopper, there, I admitted it. And I'll take a wild guess that NastyGal switched up its shopper demographic … just a hunch.
Hunny, I had a hard time finding anything worth splurging on except this to-die-for red suede mini dress with fringe sleeves. I actually saw this on the website and was so hype that it was in-store. They only had a large left in stock, but I had to try this bad boy on anyway. A $400 splurge purchase, I probably would have done it if they had my size (covers face).
Overall, I still support the NastyGal brand. Founder Sophia Amoruso has done a bomb job with expanding her brand over such a short period of time. I remember when no one even knew about NastyGal and I was able to keep them as my little shopping secret. But a secret no more, NastyGal is for the trendsetters who don't mind dropping a gem for an exclusive piece. Nice to see that they are getting back to their vintage staples … price tag included.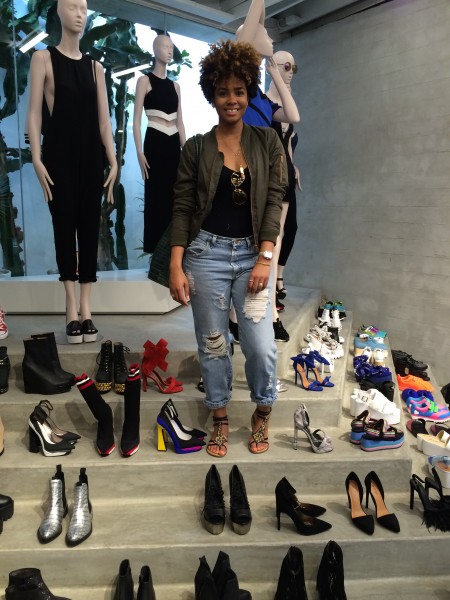 If you're in LA, be sure to drop in and take a look at their first store on Melrose! They just opened their second location in Santa Monica too. Congrats Sophia!