Behind the Scenes: Rihanna For River Island
I can't wait to see what Rihanna is cooking up for her first clothing collaboration with River Island. Rihanna is a trend setter, so it was only a matter of time before she released her own threads. 
She stays true to herself and is a risk taker, which works in her favor. It was important for her to team up with open, creative minds to bring her vision to life. Her line with River Island is for "young, sassy personalities" highly influenced off of fashionable street style.
"This has been something I've wanted to do ever since I started loving fashion," she says, adding that "everytime I saw something on a rack I wanted to do something to it to change it, so I felt that only way I could do that was by designing something perfect for me. This was my way of doing that – teaming up with River Island and designing clothes for young, sassy personalities, that's what I wanted to do."
Peep the video on some behind the scenes talk with Rihanna on what we can expect, her personal style, and some sketches of the pieces. Rih will be showing her first River Island collection at London Fashion Week. Can't wait! 
Do you think the collection will be more chic, sporty, or edgy?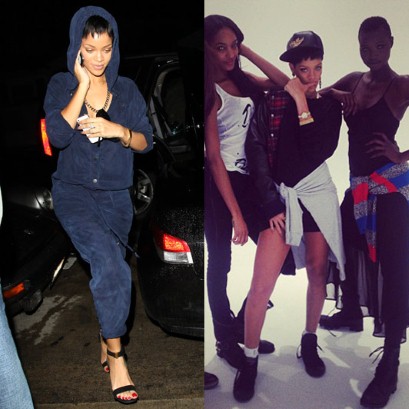 (L- Rihanna out in LA wearing a jumpsuit from her River Island collection; R- Rihanna on set for the ad campaign)
photo source XPOSURE