(photo courtesy of Dermalogica)
Recently I was personally invited to attend professional skin care line, Dermalogica's, store grand opening here in Atlanta. The brands fifth location is in midtown, smack dab in the middle of Atlantic Station, right across from Dillard's.
The store is beautiful. Very spacious, organized, with a dual use. As you walk in, the front section is filled with retail products separated by skin type and concern for consumers to purchase. There's also a cool face mapping station where you meet with a certified dermalogical skin therapist for a professional skin analysis.
(photo courtesy of Dermalogica)
You get a one-on-one session with the therapist who goes zone by zone on your face to teach you about your skin. Of course I had to try it out, so I put my skin in Katie's hands. All this time I thought I had oily-combination skin type, but come to find out, Katie revealed my skin is also dry right around my nose. Interesting.
The back of the store is used to school both budding and seasoned estheticians who desire to take their education further, hands-on, classroom style. I love that concept.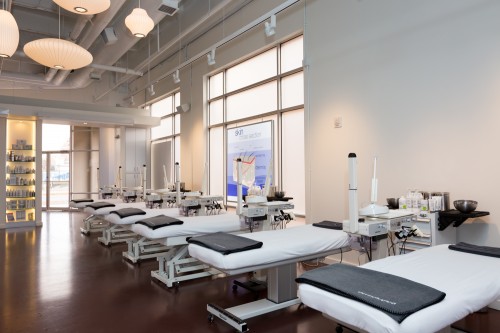 (photo courtesy of Dermalogica)
After visiting the new store, I was invited to a private dinner where I had the chance to sit down and have an intimate conversation with Dermalogica's Founder, Jane Wurwand. What a sweet and inspiring woman! We talked about everything from what it's like living in LA, her daughter's peaking interest in journalism and fashion, and of course the story behind the Dermalogica brand.
Thank you Dermalogica, for including me in your grand opening in Atlanta!
I will definitely be trying a Dermalogica skin regimen so I can see a difference in my skin. I've heard a lot of positive feedback from the brand from my followers on Instagram. I'm excited!
Have you ever used any Dermalogica products? Tell me about your experience in the comments!
Dermalogica in Atlanta
232 19th Street NW Suite 7130
Atlanta, GA 30363
(404)876-4066
dermalogica.com/atlanta