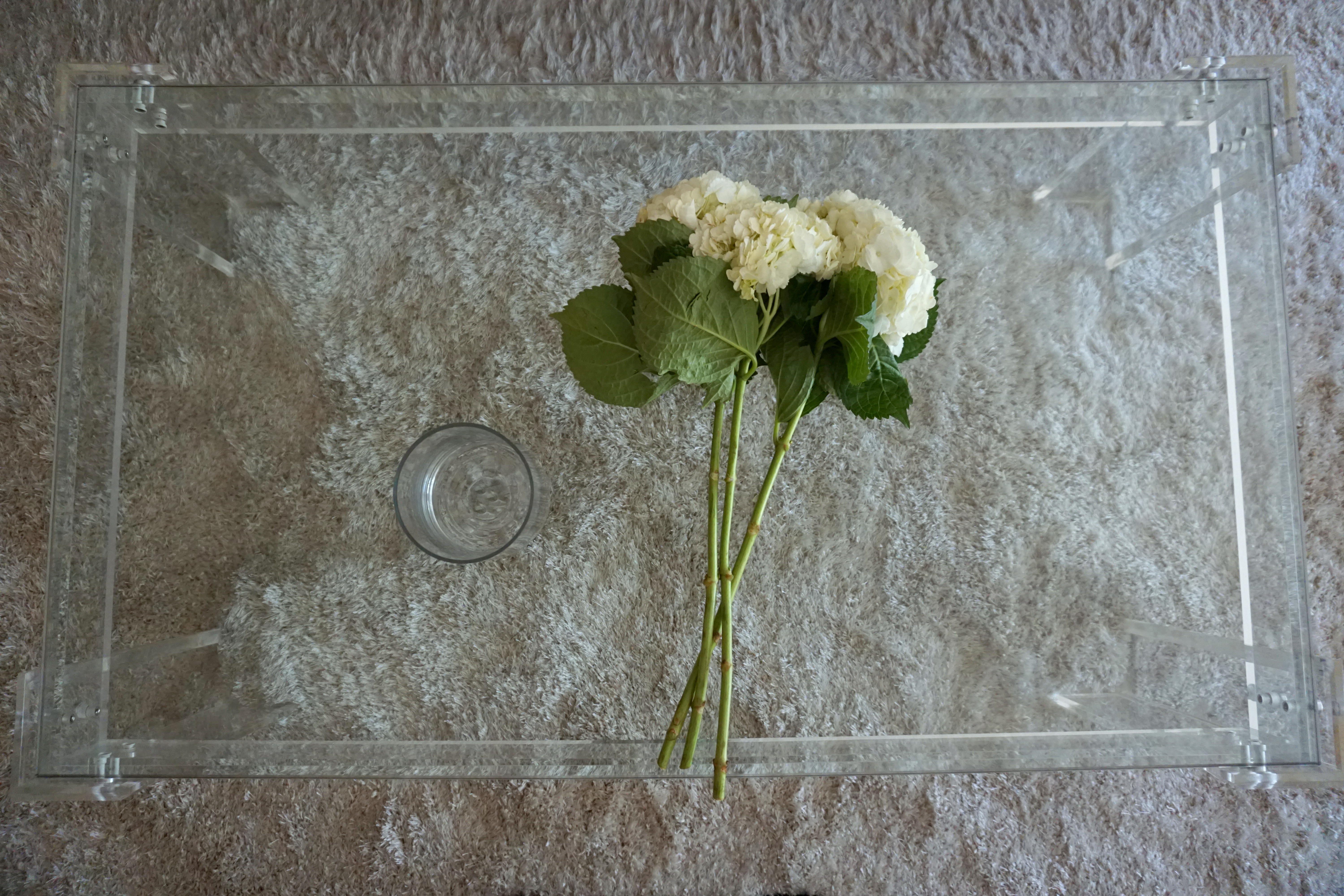 Welcome to the first piece of the new MR interior home series! We talked about it a little back here and a lot of you were interested so here we go. This series will talk about home decor, my personal space, and interior tips and inspiration.
I love to liven up my place with fresh flowers in my living room and bedroom. Flowers bring such a cozy and personal feel to your room. Plants are another great option, if you have a green thumb, ha ha. You can find affordable flowers at your local grocery store, flower shop, subscription delivery service, or personal garden if you have one. One of my favorite places to go is Trader Joes (if you follow me on IG you probably already know that), they are super affordable (like $4.99-$10.99 kind of affordable), fresh, and have a lot of variety to choose from.
I picked up some white Hydrangeas this week and put together a simple arrangement for my living room table. They were $5.99 from TJ's… deal! They really compliment the coffee table books, candles, and table tray. I put together a tutorial below so you can make your own arrangement at home!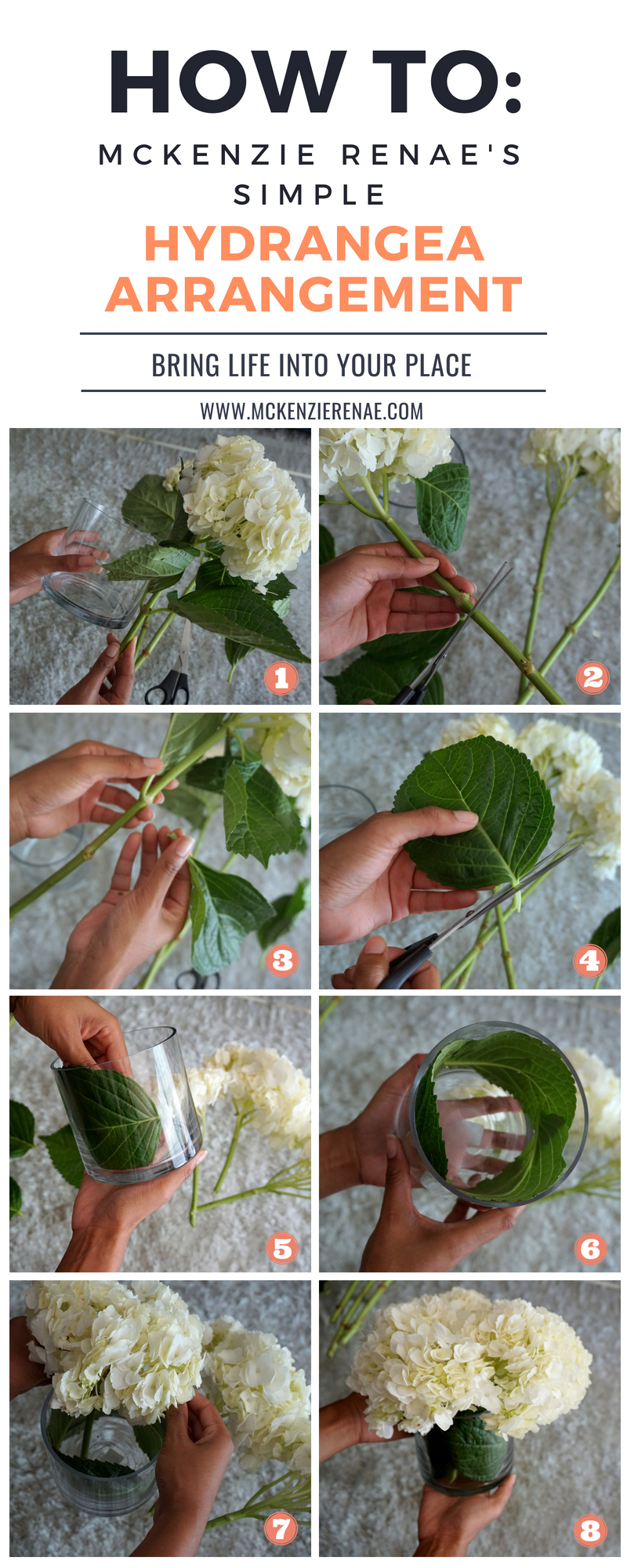 Simple Instructions:
Take your arrangement and measure it roughly against your vase to see how long they should be and where you need to cut the stem. (TIP: I like to do a rough pre-arrange by placing the flowers in the vase, before trimming and adding water. This gives you an opportunity to be creative with the placement and avoid a mess in the process.)
Take your scissors and cut the stem at an angle. This prolongs the life of your flower helps it take in more fresh water.
Gently break the leaf off of the stem.
Take your scissors and trim the leftover stem from the leaf, if any.
Choose three of the most attractive leaves (the number may vary depending on the size of your vase). One by one, gently place the leaf against the side, facing outward around the vase.
Continue to layer the leaves where the ends are grazing over each other until no spaces are showing.
Take your first hydrangea bunch and place it in the vase. Repeat with the other two arrangements until the flowers are standing and fluffed to perfection. This is the time to do any additional trimming of the stem for evenness in height, if needed.
Fill the vase about half way with water and add any flower food that came with your flowers. The end result should look like what's pictured above.
Voila, you're a budding florist!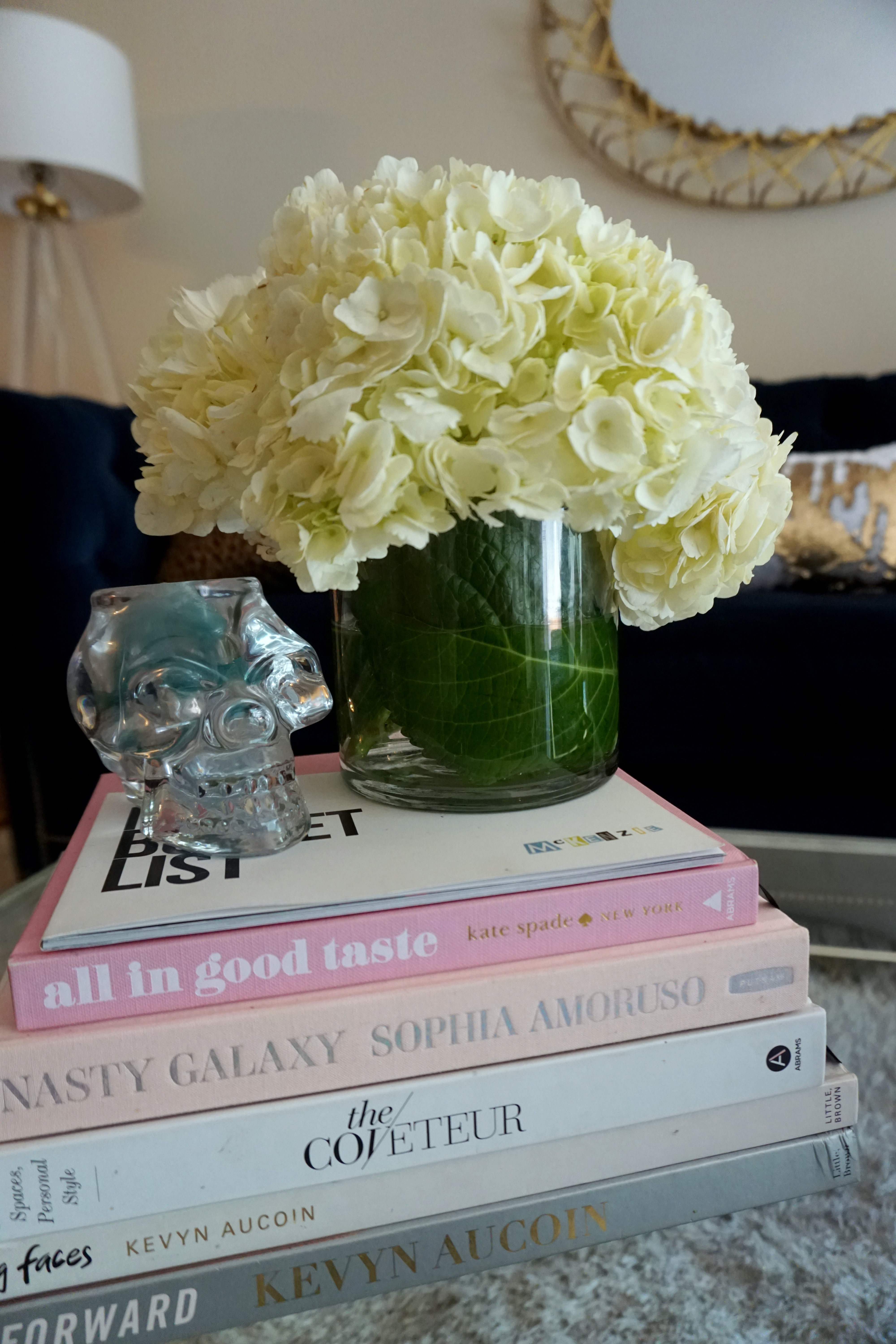 This arrangement is super easy to make and a great starter look for your living room or bedside table. Nature does great deeds for the mind and body, so why not bring it inside for an intimate and up close experience?
What do you think? Will you be giving this arrangement a try? If you do, be sure to tag me on Instagram so I can share it!