One of the most common questions I get on both social media and in real life, is centered around my hair. How am I able to maintain healthy colored hair, while straightening it, then washing it all for my curls to revert back to their natural pattern without damage?
It hasn't always been this way, and the process has definitely been a learning curve. Years ago, I would straighten my hair frequently in between color sessions. It looked great, but when I look back at photos like this one….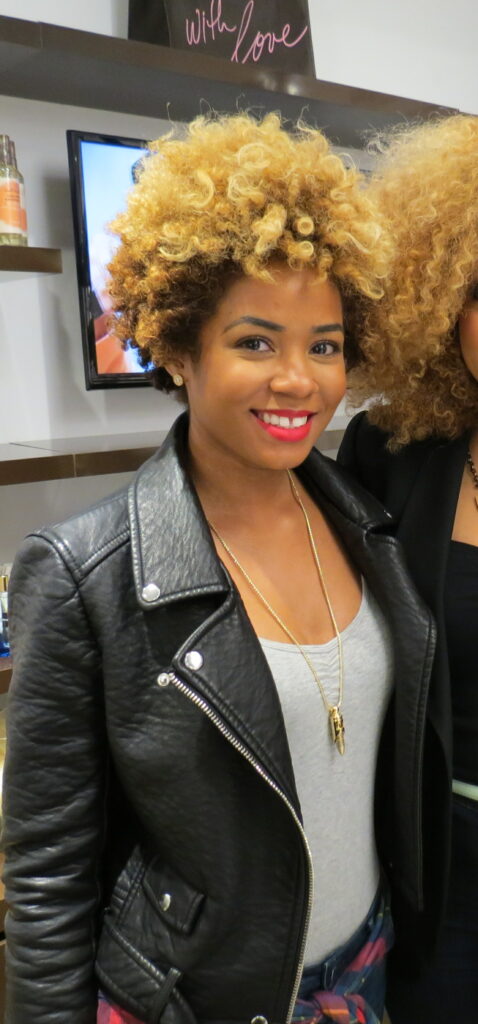 I can really see how damaged my hair became by applying so much heat to it. I would get it colored, wear it natural, then decide I wanted it straight. So I'd wash it, blow dry it, flat iron it, then go back and put a curl in it. Way. Too. Much. Heat. And that produced super dry hair with straight blonde ends.
I've learned a lot from trial and error over the years and I've also upgraded to higher quality products that are specifically meant to maintain and treat natural colored hair. My stylist specializes in color, so she suggests that I use the products she uses on me in the salon. She's the one who introduced me to the Olaplex line, plus more.
First things first, let me knock out some answers to common questions:
Do you color your hair yourself? What color do you use?
I do not and have never colored my hair myself. I have never used boxed color either. My color has always been done professionally by a licensed and educated stylist who specializes in both color and healthy hair. I always recommend doing the same if you desire results similar to mine.
How do you straighten your hair so often and still avoid heat damage?
On average, I'd say I get my hair colored and straightened 3-4 times a year. Now, I only allow heat to be applied to my hair at the salon, and after that no iron touches it. That is the key. No more heat. If it's humid outside and my edges or roots puff up, then they puff up. If my curls drop, then I pin curl them overnight to revive the volume the next day. But whatever I do, I never add any additional heat once I get it done the first time. At most, I'll rub a light heat protectant serum between my palms and on my fingertips to tame any flyaways or frizz.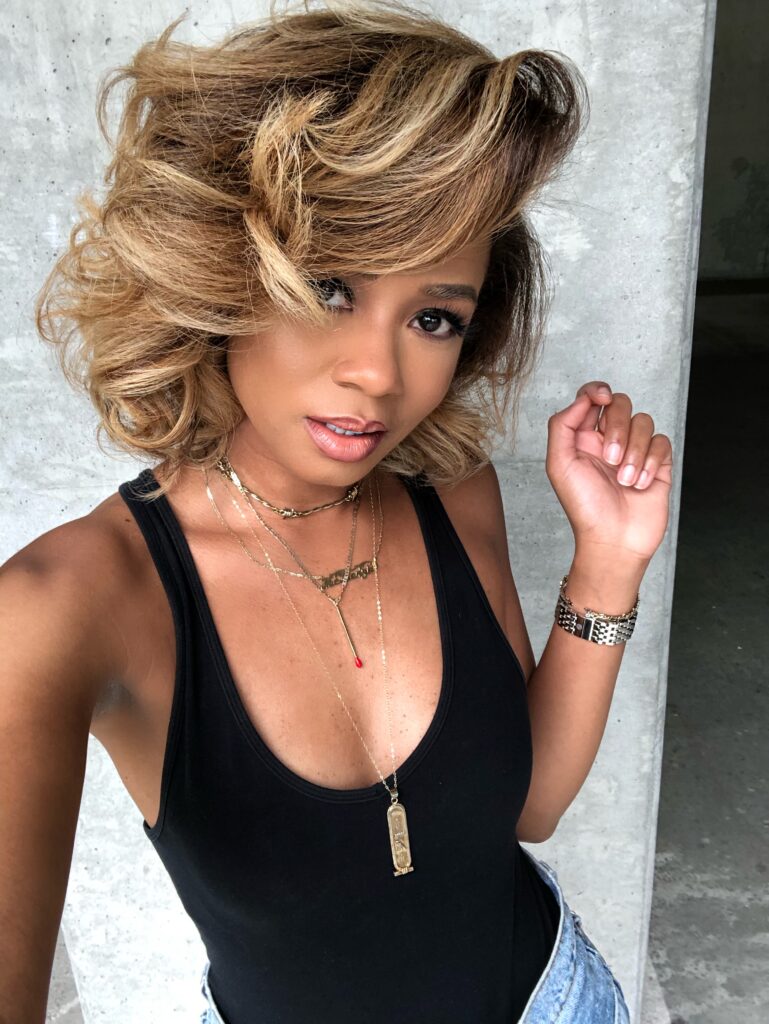 How do your curls last so long?
My secret is the pin curl. I take medium sections of my hair and pin curl them section by section every night. Every. Single. Night. No exceptions. Once the curls start to fall to the point of no return or the movement gets a little stiff, I'll start wrapping it at night to bring back that voluminous blowout look. Then eventually it morphs into a cute ponytail until it's time to wash again. I can stretch my straight style at least 1 ½ to 2 weeks if the weather cooperates. Oh, and sorry girls, but I don't work out when it's straight. There's just no way to avoid my edges and roots sweating out if I do. Sacrifice.
What products do you use?
As a beauty writer, it's pretty much my job to test out products as they release and let you know my thoughts on those that I love. While I do have some old faithfuls that can't seem to leave my side, I'm not necessarily loyal when it comes to hair products. As my hair progressively gets blonder, my stylist has recommended higher quality products to use in between visits that specifically focus on maintaining my color while keeping my curls in tact when wearing it in its natural state.
Here's what I'm using right now to pre-wash, wash, condition, and moisturize: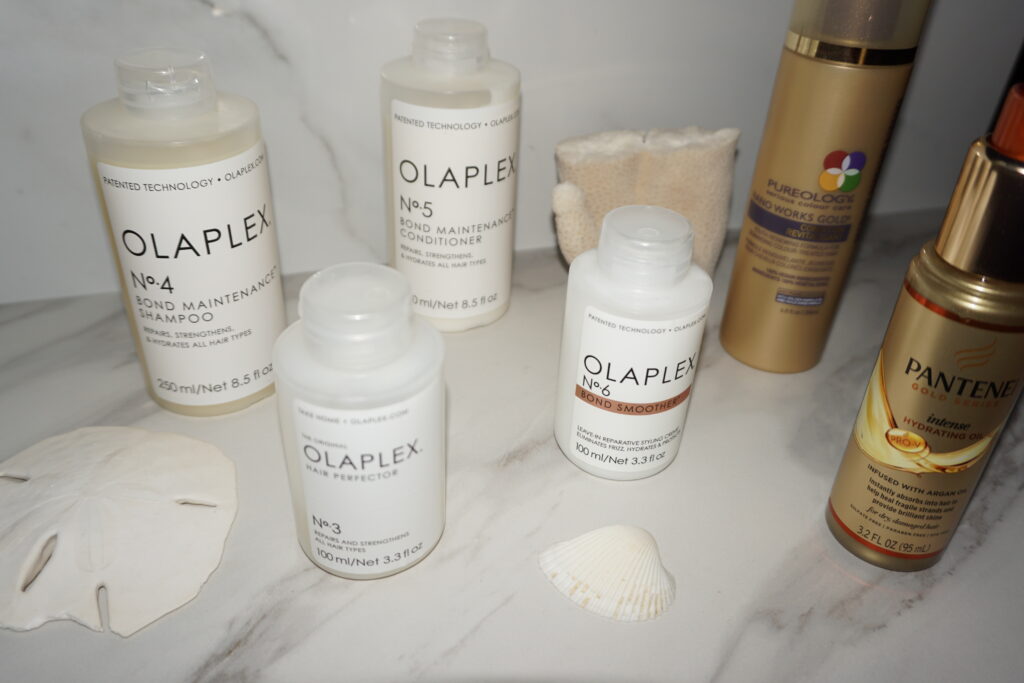 Olaplex No. 3 Hair Perfector – This is what I use before I shampoo. It's not a conditioner, it's an at home treatment that reduces breakage and visibly strengthens hair, improving its look and feel. Again, use it before you shampoo.

Olaplex No. 4 Bond Maintenance Shampoo – This shampoo repairs and maintains the bonds in your hair, eliminates frizz, and reduces breakage. It's also color safe.

Olaplex No. 5 Bond Maintenance Conditioner – I follow up with this highly moisturizing, reparative conditioner that protects and repairs damaged hair and split ends. It also strengthens and adds shine.

Olaplex No. 6 Bond Smoother Reparative Styling Creme -I've been using this as my leave-in conditioner. It's a reparative styling cream that eliminates frizz, hydrates, and protects all hair types.

Pureology Nano Works Gold Conditioner – I switch back and forth using this conditioner as well. It's meant for color treated hair and provides nourishment, softness, volume, and shine. I always rinse it out in the shower using cold water.

Pantene Gold Series Intense Hydrating Oil – Moisture is a focus area because blonde hair is very high maintenance. I like to use a light, but hydrating oil or serum every couple of days or even daily as I take my pins curls down and finger combs my curls. Lately I've been obsessed with this one. Not only does it give me shine while smelling amazing (it's infused with Argan Oil), but it's sulfate, dye, and paraben free.

Note: I like to rotate between styling products. Right now I'm using the styling creme from My African Pride's Moisture Miracle Collection, the hydrating oil from Pantene Pro-V's new Gold Series Collection, and a mouse from The Doux. 
That's pretty much it when it comes to how I've kept my hair healthy all of these years. Everyone's hair type and reaction is different, so what works for me may not work for you. If it does, then great, I've saved you a lot of time and research. If not, you are going to have to go through trial and error to see what combination works best for your hair. It can definitely start to get expensive, so I'd recommend finding sample sizes of whatever you can get your hands on, and taking it from there until you decide to commit to full size bottles.
If you have any additional questions, I'd be happy to answer them in the comments below. This will become an amazing forum for those who are also looking for the same answers!